The University Art Gallery plays an important part in the education of SSU students and the community.  As part of its role as a teaching facility, the Art Gallery provides Art History, Art Studio, and students from other majors hands-on experience in the field of museum and gallery methods and arts administration.
Museum and Gallery Methods Minor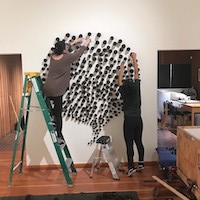 The
minor in Museum and Gallery methods
provides students of with education, training, and hands-on experience in the theory and practice of nonprofit museums and galleries. Art History and Art Studio majors — along with other majors such as Anthropology and History — completing this career minor will be in stronger positions to find jobs and prepare for graduate work in Museum Studies. The Museum and Gallery Methods minor may be combined with any other major.
Internships are an essential part of preparation for working in the museum and gallery fields. Three units of an internship are required for the minor and can be arranged with the University Art Gallery at SSU as well as at local and regional galleires, museums, and other related nonprofit organizations. Internship Agreement Form.